Our editors research and review only the best products we trust. We may receive a commission on some (but not all) links associated with our content. As an Amazon Associate, GLAM Vegan earns from qualifying purchases.
I've been seeing or hearing about Leafside Meal Plan and you know us, we like to check out vegan meal plans! We are coming to you with the latest on what Leafside Meal Plan offers compared to other vegan meal deliveries we've tried, what's different, what's unique, the cost, and all things you might want to know if you were thinking of subscribing to Leafside Meal Plan!
We have covered broad vegan deliveries on top vegan meal delivery posts and we are currently a big fan of Splendid Spoon and Thistle since Leafside isn't a fully prepared meal we'd recommend checking these other vegan meal deliveries as well.
Leafside Meal Plan
Pricing and Cost:
All the items cost $9.99
Types of Meals:
Smoothies, Bowls (savory and sweet), Soups. (Only have a set number (23 total) of items)
Ingredients Used:
Plant-based, vegan, non-GMO
Ready to Eat:
No. All meals are freeze-dried (more

details

)
Official Website:

goleafside.com
Leafside Meal Plan
What is LeafSide Meal Plan?
Leafside Meals is a whole food plant-based meal delivery service located in Tempe Arizona. They have soups, bowls (savory and sweet), and smoothies. LeafSide's informal advisor is Dr. Michael Greger M.D. FACLM (Fellow of the American College of Legal Medicine) a physician and NY Times best-selling author of How Not To Die.
LeafSide is a subscription box that auto-delivers monthly. You need to order at least 12 meals per box. There are 23 items total, including soups, bowls (savory and sweet), and smoothies.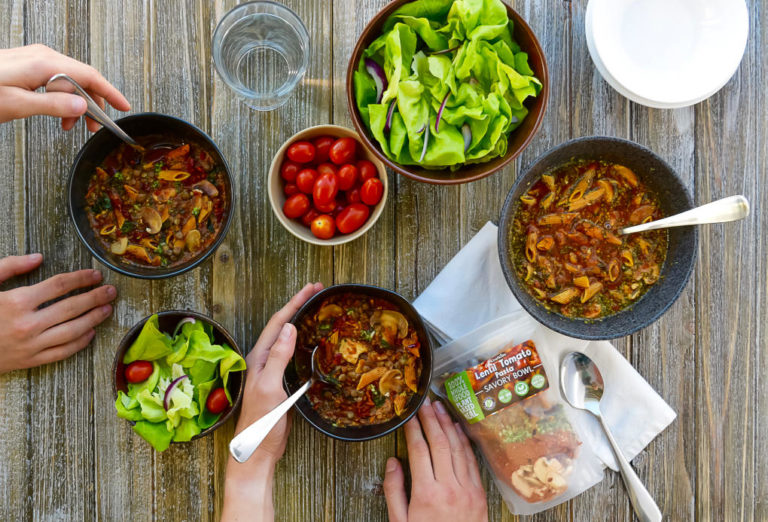 How does LeafSide Meals Work?
Leafside Meal Plan has 23 different meals available. They don't change but if you are like me your might be eating the same breakfast day in and day out so it might not phase you. They offer 7 different savory bowls, 5 soups, 7 smoothies, and 4 sweet bowls. They ship on a monthly basis and you can order as little as 12 meals per order or order what's recommended which is 23 meals per month. You have the ability to skip a month. You'll get a big box of delivery per month and I ended up eating a LeafSide meal almost once per day.
If you've been our reader you know that we review many plant-based meal delivery services. But we found certain things about Leafside that were a bit unique or different from some of the vegan meal deliveries we've reviewed which are that it 1) isn't a fully prepared meal, 2) dehydrated meal, and 3) contains added vitamin B.
Dehydrated meal
LeafSide meals are low-moisture freeze-dried meals. If you've ever had the astronaut's ice cream or the freeze-dried fruit you might have seen it in the grocery store aisle. You add water or boiling water to it and wait for 10 minutes. Smoothies do need to be blended after you add water. It's nice that it doesn't take up space in the fridge or the freezer and I know there is always something healthy I can eat if I've not gone grocery shopping. It's easy enough to prepare rather than cook a whole meal because you don't have to chop or cook anything. I guess you could think of it as if you needed to heat a meal.
LeafSide has a helpful video on how to prepare your meals:
Added B12 Vitamin
Most of the vegan meal delivery services we've tried might include added protein but we've not seen added vitamins in the meals. LeafSide has added B12 vitamin in all of its meals, including smoothies. Vitamin B12 which is essential for cell metabolism, red blood formation, production of DNA, and nerve functions, can be found in animal products. Many vegans supplement vitamin B12 by taking supplements and multivitamins.
LeafSide Meals Taste
I always love chocolate and raspberry so I wasn't surprised I loved the Cacao Raspberry Sweet Bowl. I like adding oatmeal and vegan protein in these because sometimes I want a bit more for my breakfasts. In the savory bowl selections, I love that there are noodles, pasta, and buckwheat noodle options. I liked the Thai Veggie noodle savory bowl with pea vermicelli. I was a bit skeptical it's always a mixed bag when I eat protein-based noodles but it was ok.
LeafSide Price/Cost
Currently, every meal including soups, bowls, and smoothies is all $9.99 and with shipping. You can purchase a minimum of 12 meals per delivery per month or opt for 23 meal deliveries per month. You can skip a month for the automatic monthly delivery if you need. Their prices increased in 2023, the prices used to be $7.99 in 2021 and 2022 for those who had a continuous subscription. That being said $2 increase from $7.99 to $9.99 isn't the most terrible thing as we are experiencing inflation on all types of food items…
FAQs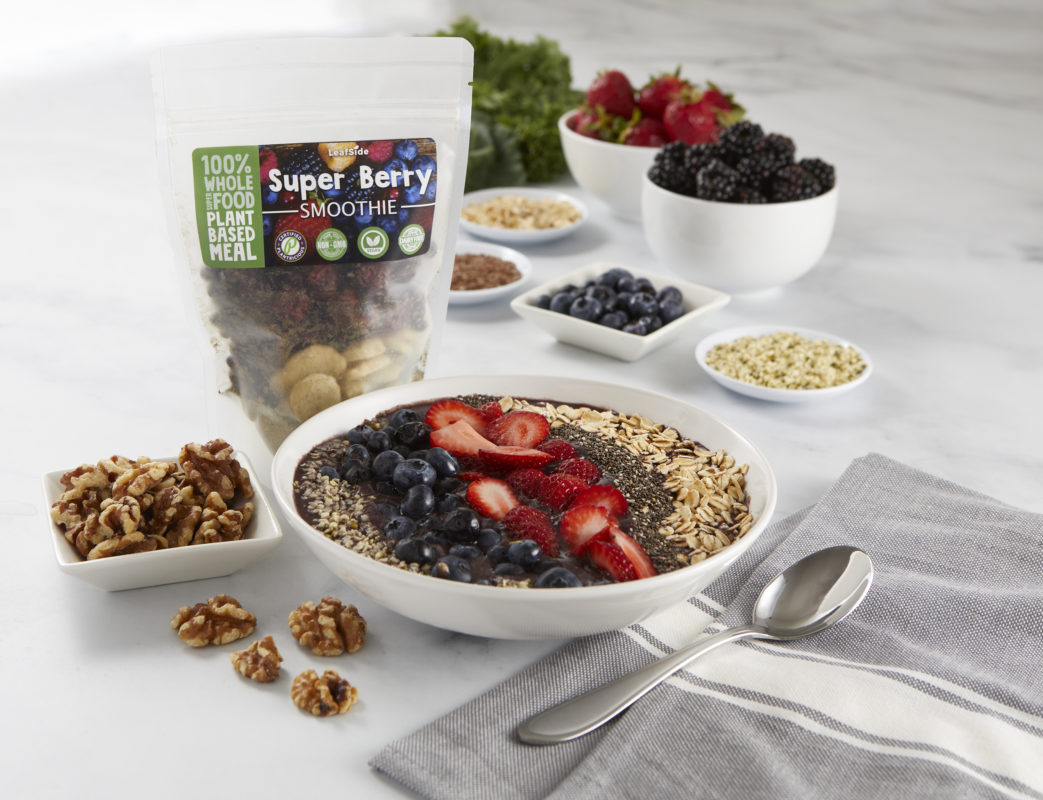 How long do LeafSide meals last?
Unlike other ready-to-eat or plant-based meal delivery service what's truly different about Leafside Meals are that all their meals are dehydrated and shelf stable (no refrigeration necessary). Leafside recommends consuming their meals within 2 to 6 months after the created-by date. Each meal will come with an exact shelf life and recommended storage method. Some of the meals will have a shorter shelf life because of the fat content (nuts, coconuts, seeds). And recommends putting them in the fridge or the freezer to extend their shelf life longer.
Is LeafSide organic?
On its website, LeafSide does state it uses organic items for most of its meals. But I've noticed on the packaging or their websites with the ingridients information doesn't state which specific ingridients are organic… I understand with some issues with the supply chain what is organic may change but it would be nice to have a bit more transparency… It does state that the majority of the ingridients are organic and they are moving towards being 100% organic so hopefully, we get a bit more clarity there.
Is LeafSide Processed Food?
We always want to eat healthier and avoid "processed foods" but what do we mean by processed food? Processed foods can be any foods that have been altered from their original state. Whether it was frozen, canned, baked, dried, etc. In this case, LeafSide Meals will fall under the processed food category. But processed food in this case doesn't mean they are unhealthy just because the state of the food has been altered. When we talk about "avoiding eating processed food" we refer to foods that consist of chemicals, added colors and flavors to make the food look appealing, and also may include added salts, fats, and sugars. LeafSide in this case does not fall under that category, it's a whole food and plant-based.
Is LeafSide Certified Kosher?
No, they are not certified koshers. They seem to be a small operation and can't get certified kosher but their meals are 100% whole food and plant-based.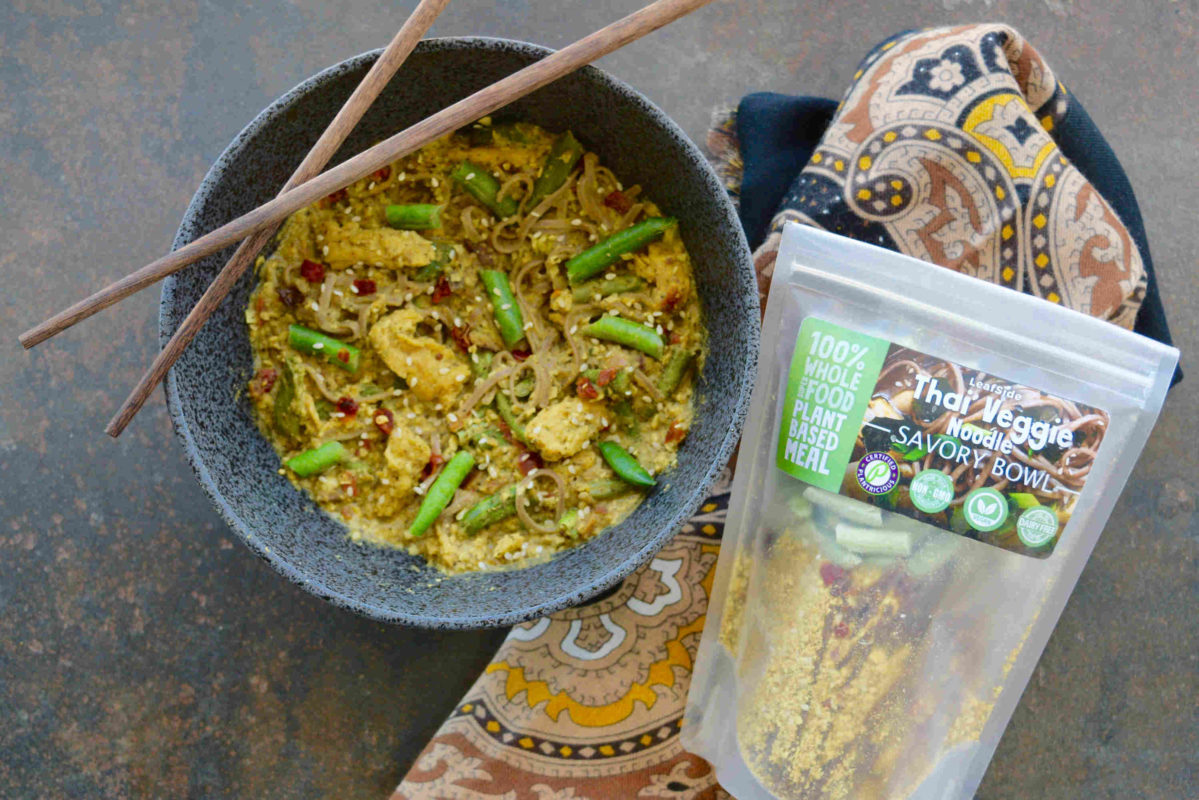 Is LeafSide gluten-free?
No. Most of the meals don't have gluten as an ingredient but according to LeafSide it seems to be processed in a facility where there might be traces of gluten included in their meals. If you are highly sensitive to gluten it might be best to proceed with extreme caution. Technically the only meal with gluten as an ingredient is the Tex Mex savory bowl which contains whole-grain wheat.
Who owns LeafSide?
Matthew Sedlacek is the founder and CEO of Leafside. He founded online marketing and business companies before Leafside.
Where is LeafSide located?
LeafSide is located in Tempe Arizona.
Take Away: Is LeafSide Worth It?
Being that it is freeze-dried and has a long shelf life I think it contributes to the LeafSide meal plan being at the lower price point of prepared or semi-prepared vegan meal deliveries. I think I would love to use Leafside while camping or on a trip where I don't know if I have access to vegan meals. It's very portable but I do prefer having fresh food. Even though there are studies that found that most of the nutrition can be preserved by freeze-drying. I've found the foods to be tastier in general when I eat fresh whole foods.
If I'm paying around $230 and shipping for 23 meals for 9.99 dollars I would rather get a freshly prepared meal at Splendid Spoon or another vegan meal delivery that is fully prepared. But I do love LeafSide meals have a long shelf life and are easy to travel with meals that I can rely on wherever I go. I probably won't make it a go-to meal delivery service but it's a great alternative to have around my house. It's also a great way for anyone transitioning to healthier eating habits. LeafSide makes it convenient when someone transitions to a healthier fully plant-based and whole-food diet.