Our editors research and review only the best products we trust. We may receive a commission on some (but not all) links associated with our content. As an Amazon Associate, GLAM Vegan earns from qualifying purchases.
Being a vegan restaurant owner (GLAM Vegan) in Miami, FL for years, I had to check out Jet Fuel Meals! When they started out delivering fresh meals, they only catered to Miami, FL. Now, they provide fresh meal delivery to the entire South Florida Area and other metropolitan areas in Florida plus New York City and NJ area. (more on this later).
Here at GLAM Vegan, we review and compare meal delivery services, but recommend only the best and healthiest. I stumbled upon Jet Fuel Meals as I was getting frustrated with shopping, preparing, cooking, and cleaning all of my (and my family's) meals. We've all been there before, am I right?
I was also intrigued by the number of meal plans available at jetfuelmeals.com, the sophisticated customization of your meal plan, and the competitive pricing.
Needless to say, I gave Jet Fuel Meals a taste test and this article will serve as my honest review of their food, delivery, and customer service. I'll also summarize the majority of customer reviews later in the article to give you even more of an idea of if Jet Fuels Meals is worth your hard-earned dollar bills (or credit card swipes).
What Is Jet Fuel Meals?
Jet Fuel Meals is taking flight with their healthy food delivery service. They are gaining massive popularity, as they offer fresh, high-quality, and all-natural healthy meals that satisfy your hunger and provide the meal-delivered convenience we've all come to adore (especially for plant-based lovers).
Get 20% off using the link below and then enter promo code SAS20 at checkout:
Being a top food delivery service provider, this band caters to more than just vegan, plant-based food eaters. Jet Fuel Meals also has meal plans for athletes (for weight gain), keto, kids, pescatarian (seafood diets), and a Maintain plan. In addition to their meal plans, they also offer Immunity Builder Shots (AKA health shots) and Cold Press Juices for metabolic power.
Types of Meal Plans
They serve all the major meals, such as breakfast, lunch, and dinner. Here's a table-friendly way of showing what they offer so you can choose a meal plan that fits your goals:
Meal Plan / Other
Calories
Per Meal
Protein
Per Meal
Fat
Per Meal
1 Meal Per
Day Pricing*
Athletic Weight Gain
610kcal
58g
8g
$57.50/week
Plant-Based
400kcal
33g
10g
$64.75/week
Maintain
400kcal
38g
12g
$51/week
Keto Weight Loss
350kcal
35g
16g
$51/week
Pescatarian**
350kcal
38g
8g
$74.50/week
Kids**
300kcal
30g
$46/week
Visit Jet Fuel Meal Official Site Now
* The prices are based on Florida deliveries. The NY/ NJ area deliveries seemed to cost a few dollars more per week. Check out the NY/NJ prices here.
** These meal plans seem to be only available in select areas.
Florida, New York, New Jersey Delivery Zones and Process
You'll want to know right here, right now, that Jet Fuel Meals delivers to all of South Florida, Orlando, and Tampa. They also ship to New York City, NY suburbs, and Eastern New Jersey areas. If you'd like to find out if Jet Fuel Meals deliver to your area check out their shipping zone here. They don't ship nationwide just yet, although I can see that happening because they are really making things happen in a positive way for busy people who want affordable meal plan delivery.
Florida Counties eligible for freshly delivered meals: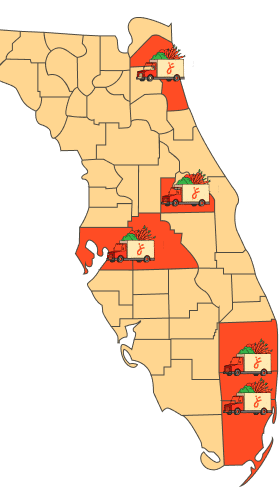 Palm Beach County
Broward County
Miami-Dade County
Orlando
Tampa
Lakeland
Jacksonville
NY/ NJ areas eligible for freshly delivered meals: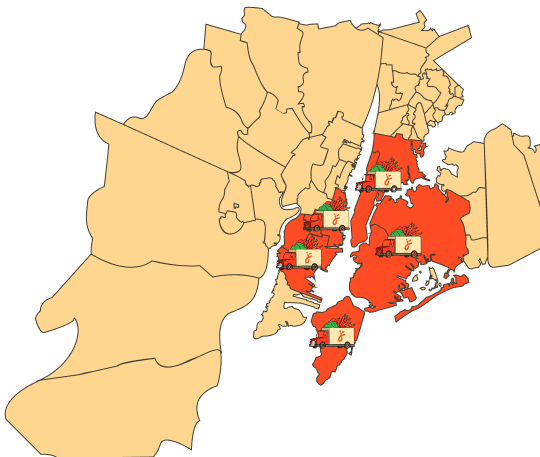 Manhattan/ Queens/ Brooklyn/ Staten Island/ Bronx
Westchester County
Jersey City
Hoboken
Bergan county
Hackensack
Secaucus
How do deliveries work?
The meals are delivered every Monday, Wednesday, and Friday before 6:30 AM. This way your meals will be ready on your doorstep when you wake up. The packaging is very professional and the box contains an insulated bag with ice packs.
Is Jet Fuel Meals Worth It?
If you're looking to subscribe to a diet that provides delicious, healthy food with the potential to lose a few pounds, then Jet Fuel Meals is a great option. From experience, the added bonuses are that the food tastes excellent and you don't have to prepare or cook the meals when subscribing. Healthy eating really can't get any easier when a brand like this delivers fresh meals filled with the perfect amount of calories, protein, and carbs right to your doorstep.
Advantages of Jet Fuel Meals
Fresh fruits and vegetables
No added sugar in their meals
Meals with low cholesterol and saturated fat
Low calories
Excellent protein and carbs
Delivered fresh (never frozen) to your doorstep
Cancel or resume your subscription anytime
Disadvantages of Jet Fuel Meals
They only deliver to South Florida addresses
Will have to reheat the meals in the microwave
How Much Does Jet Fuel Meals Cost?
Many of the Jet Fuel Meals are sold at the retail price of $9.95 (under $10), but if you sign up for a subscription you'll save 10% less for each meal! It's an extremely competitive price point, especially considering you'll be getting fresh, not frozen, meals delivered right to your door. For some of us, it beats preparing, cooking, and cleaning in the kitchen all day long. Visit their website now to see their pricing page.
What is the shipping cost for Jet Fuel Meals?
There is a weekly delivery fee. It depends on the delivery area but it seems like it could range from $15.99 to 19.99 depending on your location.
Reviews of Jet Fuel Meals: What Are Customers Saying Online?
Being a local food joint, Jet Fuel Meals has a Google My Business listing with over 340 reviews with an average rating of 4.9 out of 5 stars.
On GROUPON, they have an average rating of 4.4 out of 5 stars with 17 verified reviewers. One lady praised the company for having such a great weight loss meal plan that gave her free range to eat everything on her plate.
On yelp, they have an average rating of 4.5 out of 5 stars with 26 total reviews.
Finally, on Facebook, they have an average of 4.3 out of 5-star ratings with 30 people reviewing their meals. There are so many people who are wanting to lose weight and Jet Fuel Meals literally comes to their rescue. That said, there are a bunch of reviewers who 100% recommend Jet Fuel Meals as a great choice for fresh meals delivered to your home.
Let's discuss the negative reviews because that's just as important as the positive ratings. After reading through all the complaints, I found a couple of things in common.
First, some people didn't like to have certain items in their diet, but somehow still ordered them during the customization ordering process. And, second, the other most common complaint is delivery issues. The problems consist of not being delivered on time (they promise meals delivered before 6 am). However, the company seems to be responding very well to these negative reviews and are quick to fix the problem. Check out the example below of a woman who first gave a 1-star rating, but then the company "made it right" and solved the problem.
Knowing this information is very helpful before ordering from any brand. I had to do some digging myself before purchasing from them. At least now you have a place where it's all summarized.
Final Thoughts: Is This Meal Delivery Service Legit?
From time to time, we all struggle to be full-time cooks in our kitchen. And, I think it's safe to say that we've been burned by a few meal delivery services at least once in our life. Experiences like these tend to scoot us away from trying a different brand.
It's not easy finding a reputable meal plan delivery brand that delivers fresh (not frozen) food that's healthy, yummy, and affordable. One thing's for certain, if you're a busy person that doesn't have time (or you don't want to make the time) to be the full-time chef in the kitchen, then finding that delivered food service is crucial.
Hopefully, you're one step closer to choosing this or the next. As I mentioned at the beginning of the article, we specialize in testing healthy meal delivery brands here at GLAM Vegan. And, we only recommend the best. Or, as I say, GLAM!
Think it's a good fit for you? ($20 Off Code Below)
If you're ready to purchase, be sure to use the link below and then enter promo code SAS20 (20% off) at checkout! This is the lowest price it's been in months, so if you're serious take advantage of it.