Our editors research and review only the best products we trust. We may receive a commission on some (but not all) links associated with our content. As an Amazon Associate, GLAM Vegan earns from qualifying purchases.
Most businesses run on the popularity of a commodity and its demand thereof in a particular location. I mean, for instance, won't you find it challenging to sell lamps in a location where the power supply is stable?
The other side of the coin in running a business is, in fact, the extreme opposite of what I just mentioned; that is, the complete absence of a commodity. For instance, selling shoes in a community where the people don't wear shoes – some would see that as an opportunity. But I have a problem with positioning here; where does vegetarian service belong?
Maybe that should be less of our concern compared to the interesting fact I seek to share with you.
Are you in search of fresh vegan meals?
More so, do you need those meals delivered to your front door?
In the past, it may be quite challenging to employ vegan delivery services but that has changed in recent times with the emergence of some excellent new delivery companies in the market.
Related: Best Vegan Meal Delivery Services
Vegin' Out is one of those companies; the company can make double weekly delivery of fresh vegan meals to your domicile not only in South California (where they are primarily based) but also ship deliveries crosswise across the nation too.
This review of Vegin' Out, therefore, will include details about their menu vis-à-vis pricing. You will also see reasons why you should choose this vegan delivery service compared to other weekly vegetarian meal delivery services. In a nutshell, we will discuss "the what", "the how", and "the why" of Vegin with this great company.
In this review, you will find:
What is Vegin' Out?
Some vegan meals Vegin' Out offers
Breakfast
Cookies
Entrees
Side Dishes
Soup
How does Vegin' Out compare to other vegetarian meal delivery services?
What's on the Vegin' Out menu?
How much does Vegin' Out cost?
How does the Vegin' Out menu taste?
Can you mix/match Vegin' Out?
Is Vegin' Out environmental-friendly?
Why should I use Vegin' Out again?
If you don't have time here is a quick overview table of what Vegin' Out offers.
Does the meal service offer:
Vegin' Out Specs
Vegan Options?
Yes
Vegetarian Options?
Yes
Dairy-Free Options?
Yes
Gluten-Free Options?
Yes
Trans Fat-Free?
Yes
Organic?
When available
Diabetic Friendly?
Yes: there is a diabetic-friendly meal plan
Cleanse Options?
Yes
– 5-day vegan soup and juice cleanse ($165 -$199)
– 21-day vegan cleanse ($429 – $588)
Price (meals per week)
From $129 to $189


Lowest price for LA residents

Delivery Fee
Shipping fees are already included in the meal plan.
This is why meal plan prices are more expensive outside of LA area
Delivery Area
Currently only 47 states in the U.S.
Vegin' Out specs
Now, let us get into the nitty-gritty of the matter.
What is Vegin' Out?
Vegin' Out is a Los Angeles, South California Company that offers double weekly vegetarian meal delivery services. The unique focus of this great company is healthy, tasty, organic, well-balanced (yet simple) meals that are guaranteed to provide sound nutrition even at an affordable price.
You will agree that convenience is the primary offering of a significant number of meal orders, especially vegan meal orders, where trying out a new diet on your own (that is, without help) may come with its own fuss. However, with a weekly vegan meal delivery at your disposal, a factor that uniquely defines Los Angeles vegan delivery services, you should be at rest. Besides, little wonder Los Angeles is said to be one of the lushest vegan cities in the world.
Some vegan meals Vegin' Out offers
Vegin' Out meals are purely cooked from organic ingredients; I mean that's the essence of going vegetarian in the first place, yes? You can count on Vegin' Out to provide quality organic-made vegan meals.
There are a wide variety of meals Vegin' Out offers, although the meal plans change weekly because the company likes to focus on a few dishes so that they can proportion the number of deliveries and optimum attention can be paid to each recipe. How amazing! They are not only profit-driven.
Now, as earlier opined, the meals reviewed in this content are some of the varieties they offer. Nonetheless, these should give you an insight into what you should expect.
Power oats: Ingredients are almonds, almond milk, chia seed, cinnamon, rolled oats, salt, vanilla, and maple syrup.
Almond shortbread vegan cookies: Ingredients include almonds, almond meal, baking powder, brown sugar, egg replacer, organic evaporated cane juice, organic unbleached flour, salt, vegan margarine, and vanilla
Chili with mixed beans, bell pepper, tempeh, spices, celery, onion, and tomato
Vegetable jalfrezi with apple cider vinegar, carrots, cilantro, cauliflower, garlic, ginger, peas, spices, and salt
Chimichurri tofu and veggies with bell pepper, chili flakes, cherry tomatoes, fresh herbs, tofu, onion, garlic, red wine vinegar, salt, and zucchini
Argentinian tomato rice: Ingredients include brown rice, cilantro, onion, salt, spices, saffron, tomatoes, and red wine vinegar
Cumin-scented green beans: Ingredients include green beans, salt, spices, tomatoes, and onion
Kale with roasted garlic vinaigrette: Ingredients include Dijon mustard, garlic, kale, salt, parsley, and red cabbage
Lovely oil-free vegan soup: Ingredients are almond milk, carrots, ginger, salt, onions, and spices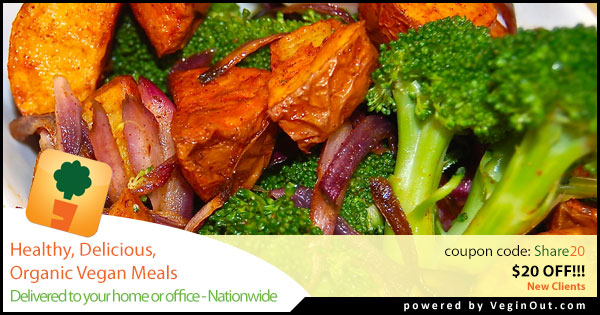 How does Vegin' Out compare to other vegetarian meal delivery services?
One should wonder if the above list is only a few out of the wide variety of vegan meals that Vegin' Out offers, how large would the full menu be? I wrote that to hint that it, therefore, becomes sensible to make such a comparison with other vegan – plant-based – meal delivery options (which are limited to a couple of vegetarian dishes) out there in the market.
I hope you caught my drift there.
Okay, moving on.
What's on the Vegin' Out menu?
Here is the downside with dining from other weekly vegan meal delivery services: the power you have is only to choose between the options of a vegan meal; that is, either the single weekly– or double weekly vegan meal option for one person and two people respectively. The food you'll eat is chosen for you.
Then again, as the meals are being selected for you, if there is a meal you don't like being delivered, you are stuck as you don't have the option of opting out. When you also consider pushing for subscription discounts alongside the additional menus, it seems challenging to navigate your way through. Oftentimes, the reason for removing the option of canceling or changing of the menu is that it becomes a worrisome complication for delivery companies.
Vegin' Out seems to have this complication under wrap; they have got it managed. You can order what you'd like to eat and when you'd like to have it.
How much does Vegin' Out cost?
Now, at this point, you don't want to be mischievous as it is with some when it comes to the price of goods and services. Generally, getting to be served at your convenience comes with an extra charge. Convenience comes with its own price, and what could be more convenient than having your meals planned, pre-packaged, and delivered to your doorstep?
Notwithstanding, prices are not quite expensive because vegan meal delivery services don't have to purchase expensive meats and animal products.
Nevertheless, the cost profile for services from Vegin' Out is a bit cheaper than a significant number of vegan meal delivery services out there. As I earlier opined that the company is not only profit-driven; hence, rest assured that the size and flavor of your ordered meals correspond with the price.
In that wise though, you would need to separate $100 and more for a week's worth of food. For the double weekly vegan delivery option, especially outside California, you should be looking at $360.
How Does Their Menu Taste?
Plant-based meals don't have to taste bland. They can be quite delicious as long as they are healthy. Vegin' Out they don't shy away from bold and exciting flavors that make their meals yummy and finger-licking (literally) good!
One of the meals that excelled for me is the Tofu Tika Masala, the chili flake marinade and red wine vinegar make it excel in taste. Also, with the help of the recipe, I was able to cook the tofu so well, something that I had failed to do on my own.
Can you mix/match Vegin' Out?
Well, yes. A vegan diet and lifestyle make up a wide variety of different dishes and recipes, and Vegin' Out offers a significant number of these recipes and dishes.
I can assure you that you will not get bored with the single/doubly weekly vegan meal delivery service. Nevertheless, the menu in a week may not be as much enough for you to mix and match for the whole week without having to repeat a meal at least once or twice.
Is Vegin Out Environmental-Friendly?
In recent times, the environmental impacts of societal and industrial activities have been significant considerations in how those activities are run. I know you'll find it convenient for your meal to be delivered to your doorstep, but you may not be considering the environmental implication of that. Sometimes, it is only better to do your shopping yourself.
Why?
Too many Plastics! Insulating wraps!
Just like every other brand in the vegan meal-delivery service, Vegin' Out claims to be doing everything it can to ensure the principles that bind veganism are upheld, but in retrospect, it can still do better.
No business owner wants to run on losses, right? Because they can't ascertain how long their food will stay on the porch, they employ the use of insurance insulation and wrapping to protect it from spoilage. This, consequently, tends towards unnecessary wastage.
Who is Vegin' Out Good For?
Preference will play a huge role here as what is sauce for the goose may not be sauce for the gander. Yes, quote me! Personally, I acknowledge that Vegin' Out meals are simple and delicious. However, one of my issues is the upfront cost; I find it a little pricey. But, in the long term, it ends up saving me money. Also, for environmental-friendly advocates like myself, I'll argue for a cut down on plastic use (as with any meal delivery service).
There are a few vegan meal delivery services out there that are so captivating in their services that upon trying them, you are unlikely to cheat for a snack. Everything you need for the full week is provided in their menu, which is great!
Pros of Vegin' Out
There are a variety of entrees and side dishes that you can choose from; also, you can mix and match them to your taste
There are a variety of optional extras you can choose from to accompany your meal, such as vegan cookies
The company can deliver crosswise the nation with a single and recurring purchase plan
The meals offered are healthy and nutritionally balanced, which gives your body exactly what it requires
You can make significant portions of sumptuous meals in bulk to further convenience
The meals are included with recipes with which you can learn to experiment and improve your plant-based diet
Cons of Vegin' Out
You are required to pay a certain amount in advance before delivery; that upfront cost can seem expensive
It's not environmental-friendly as the meals are wrapped in plastics
FAQs
How many meals are in a single Vegin' Out order?
All Vegin' Out dishes are lunch and dinner food. A single order consists of 9 to 10 vegan meals. A meal consists of 1 vegan entrée. 1 serving of entrée consists of 2 different vegan side dishes. Say you also take fruits with your meal, a single order should last you for about 6 to 7 days.
Does Vegin' Out have gluten-free options?
For most of the dishes that are laden with gluten, there is a gluten-free option. And, for some dishes, they can leave out the gluten-containing ingredient altogether and it won't considerably affect the taste or flavor, while on some other meals where the ingredient can't be removed, a gluten-free ingredient is used.
As an example, organic whole wheat pasta is primarily used in making pasta dishes but can be substituted with gluten-free rice pasta.
Can I get a discount if I refer my friend?
Yes, you can get a discount if you refer a friend. A discount of $25 is accredited to your next vegan meal order for every friend you refer. Just ensure your friends tell them they were referred by you.
Can I lose weight by eating Vegin' Out meals?
Some eat vegan meals because of weight control/weight loss, but Vegin' Out does not particularly advertise their meals or service as a weight loss program. Do they prepare clean natural food? Yes. Do they use the best ingredients available? Yes. That is enough to bank on for your body to function at its peak. However, there are claims of some customers about weight loss since they have been on Vegin' Out diet.
From speculations, you should lose weight (at a controlled healthy pace, however – that's critical) if you stick to the regimen of 3 servings per container alongside a consistent exercise schedule. This speculation is born from the fact that the consumption of fewer calories as you burn more of those is the way to lose weight.
Can I customize my Vegin' Out order?
There are only eight dishes on the menu for a particular week. If you don't like a meal, you can place an order for a different meal. Customizing your others is possible, but it's not without restraint. For instance, you can ask for the removal of gluten from gluten-laden meals. Such changes can be made in the special request text area when you're ordering online.
Final Words
Research has shown that benefits, such as reduction in the risk of heart disease by lowered cholesterol levels, promotion of weight loss, lowered chances of the risk of certain kinds of cancer (like colon cancer), diabetes management, etc. can be derived from vegan diets.
There is no rule that says you can't dive your nose into this method of feeding right away. Hence, if you are a starting vegan, and you don't know where to begin, Vegin' Out is a fine option to start with, primarily because of the relationship the company has with its consumers. They can hold your hands through the process. However, if it becomes an unfit choice for you, there are other excellent vegan meal delivery options to explore.